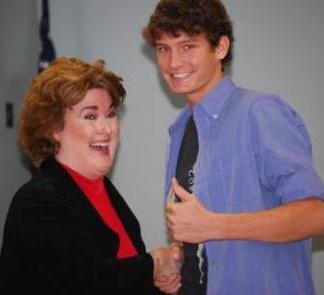 Kathryn and Youth Corp student enjoying a laugh after a presentation on communications at Columbia College, December, 2008

"For part of our Business module, Kathy took the Youth Corps students through a 30 minute session of training for how to sell themselves. The students described her as energetic and enthusiastic. Kathy is one-of-a-kind who loves what she does and takes advantage of every opportunity to turn it into a teaching lesson. Once you meet Kathy Cobb, you won't forget her."

Jeff Becraft, Executive Director, Youth Corp





"I have sent many students to Ms. Cobb for interview training. The students she has worked with are all well prepared to handle difficult interviews and many have gained full scholarships to top-notch schools across the Southeast."

"As a guidance counselor, I am confident that our students are receiving excellent guidance in communication skills that will not only assist them in interview, but for the rest of their lives. I recommend anyone who is considering applying for scholarships or for interview training in general to visit her."
Adeline Lundy, Senior Guidance Counselor
Hammond School
Columbia, South Carolina





"Kathryn Cobb is a great motivator and speaking coach. Before receiving training, I was unable to speak in front of any group. Thanks to Ms. Cobb, my problem is a thing of the past. Her one-on-one sessions motivated me and the fear of public speaking went away. Ms. Cobb has changed my life! I was recently asked to speak in front of 2,000 people at my church. It was a very effective and powerful speech that was praised by all. Thanks to God and Ms. Cobb, I was able to give that speech. She has changed my life."

Benjamin White
Columbia, SC





"I just wanted to thank you for all of the assistance you provided for me. I received a scholarship entitled the 1854 Scholarship. It covers $32,000 of the tuition at Wofford for four years. I am so grateful for this award, and I owe much of my success to you. Thank you for your time and dedication."

Robert Williams
Wofford University





"The interview coaching Kathryn Cobb provided helped me develop the self-confidence and the interpersonal skills I needed to be accepted into medical school. I would highly recommend the training she offers to anyone as I have found it to be an invaluable tool."

Brannon Weeks, MD





"I would not have gotten into medical school without your help in interview training that I received years ago."

Gariane Phillips Gunter, MD
Miss South Carolina Teen USA
Mrs. SC United States 2008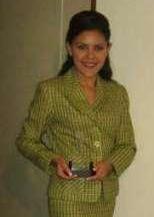 "You put me where I am. Even though I have been in this country only a few years, I won South Carolina's FBLA speaking contest because you taught me how to deliver a speech and sell it to the judges. I am grateful to you and thank you so much. I send you lots of kisses and hugs. Miss Kathy is the the greatest teacher who taught me to speak and to express my feelings. You gave me my confidence."
Claudia Cervantes
South Carolina's FBLA, Speech Contest Winner

"With the skills Kathryn Cobb taught me years ago, I believe I have been able to effectively present and promote myself in a wide range of educational, vocational, and social arenas."
Ellison Cale, Ph.D.